Dairy Industry in Uganda 2022-2023
AUTHOR BIO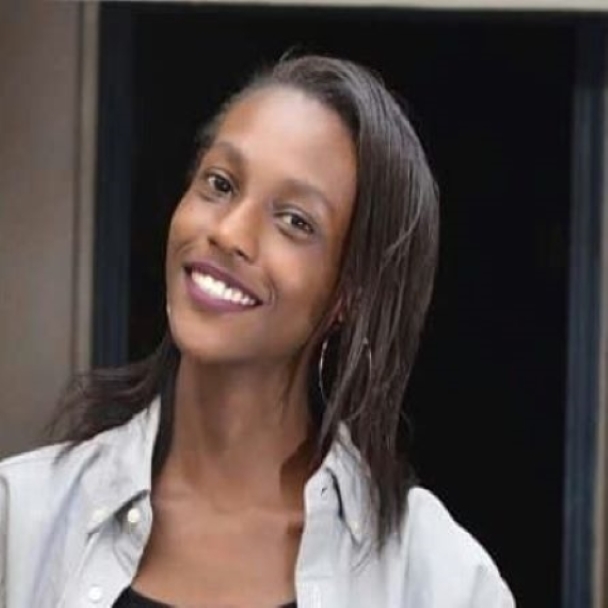 Report Posted On: 2023-09-20
Jean is our research economist, playing a pivotal role in business strategy development, and responsible for providing insights and reports geared towards helping businesses understand their macroenvironment, market positioning, competition, as well as their market and financial feasibility. She graduated with a Bachelors in Economics from Makerere University, Kampala and is currently pursuing a Masters in Economics. Her core expertise includes macroeconomic analysis, financial modelling, business model analysis, competitive analysis, brand research, among others.
ABSTRACT
The dairy industry in Uganda has been expanding over the years with the volume of milk produced increasing from 2.51 billion litres in 2018 to 2021's 2.81 billion litres. The latest figures estimate annual milk production at almost 4 billion litres as of 2023 with the government targeting 20 billion litres. The value of marketed milk stood at USH 2.24 trillion in 2020 but increased to USH 2.478 trillion in 2021. 
Dairy exports have registered substantial growth over the years to bring in the second highest export earnings in the country's agricultural sector after coffee and strongly edging its way to the number one position. Revenue generated from exports of dairy products in Uganda increased from USH 480 billion to 2020's USH 750 billion. 
The sector is also steadily adopting value addition through the processing of dairy products such as UHT milk, flavoured milk, whey, powdered milk, yoghurt, and cheese among others. The top five processing companies and industry players are Brookside Dairy Limited, Jesa Farm Dairy, Amos Dairies Uganda Limited, Pearl Dairy Farms Limited and Paramount Dairies Limited.
Competition in the industry is fairly high due to low differentiation and high seller concentration present in the market. While the industry has weaknesses such as underemployment of installed capacity, low domestic consumption rates, low-value addition and limited access to dairy farming inputs, it also boasts of strengths that include high dairy export volumes and strong investments by the private sector. Critically, Uganda has the potential to be a formidable regional player in the dairy sector, given the country's competitive advantage of low production costs compared to its regional counterparts.
The threats in the industry include Kenya's ban on dairy imports from Uganda– a factor which exacerbates a lack of a reliable market both domestically and internationally, seasonal variations in milk prices, rising prices of goods in the economy, extended dry spells and drought as well as flooding. However, there are a number of opportunities in the dairy sector as well, among which are the government's funding as well as its efforts in enhancing industry productivity, regulations and marketing of the sector, population growth and setting, growth in dairy goat farming, import substitution efforts and technology adoption.
Some of the key questions answered in this report on the dairy industry in Uganda include; What is the status of dairy production in Uganda? What is the contribution of the dairy sector in Uganda? What are the major dairy companies and farming districts in Uganda? What are the constraints to dairy production in Uganda? What is the biggest threat to the dairy industry in Uganda? What are the challenges of milk production in the country?
INTRODUCTION
The dairy industry in Uganda is a source of day-to-day earnings and food for a considerable proportion of the population in the country. It is mainly saturated by smallholder farmers predominantly residing in rural areas, with only one-fifth of the milk produced undergoing value addition.
It is one of the dozen commodities selected by the Government to be given precedence in the promotion of the country's products by the Ministry of Agriculture, Animal Industry and Fisheries, Dairy Development Authority and National Agricultural Advisory Services.  Dairy production in Uganda is carried out following 3 main production systems which are; extensive, semi-intensive and intensive with Friesian, Ayrshire, Jersey and Guernsey as some of the cattle breeds.
The dairy sector currently brings in the second-highest export earnings after coffee in the agricultural sector and is gradually paving its way to the number one position. The sector is currently valued at US $3.8 billion according to statistics. Production of milk increased from sh2.51b litres to approximately sh3.85b litres between 2018 and 2022, an average annual growth rate of 11%, which is among the highest of any sector in the Ugandan economy.
Processed milk exports include UHT milk, whey, powdered milk and many more to countries like Bangladesh, Oman, UAE, USA, Japan, Nepal and Syria. More recently, the government of Uganda agreed a deal with Algeria that will see the country export milk products worth US$500 million to the North African nation. Imports of dairy-related products consist of equipment, baby formula, ice cream, cheese and powdered milk.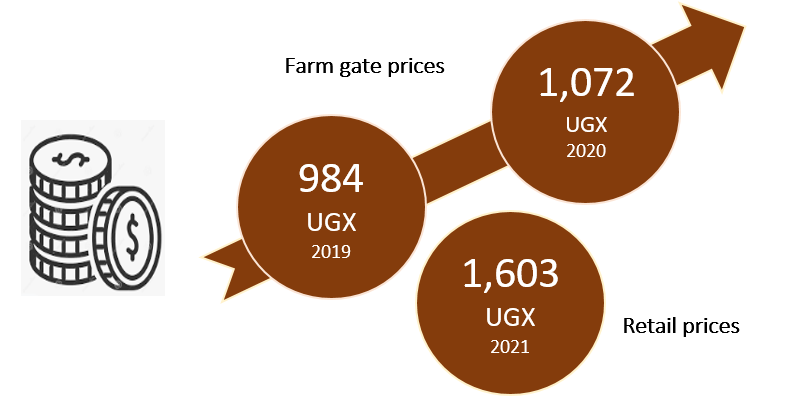 As of August 2023, the national average farm gate price of milk stood at Ush1,244 while the retail price reached Ush1,871 with the highest prices registered in the North Eastern region of the country.
Table 1: National and Regional/milk shed prices of milk (Aug, 2023)

| | | |
| --- | --- | --- |
| Region | Farmgate | Retail |
| South Western | 1,187 | 1,900 |
| Central | 1,000 | 1,800 |
| Eastern | 1,328 | 1,776 |
| North Eastern | 1,450 | 1,950 |
| Northern | 1,300 | 2,000 |
| Mid-Western | 1,200 | 1,800 |
| National average | 1,244 | 1,871 |
Milk products exported during the year 2019/20 accounted for 42% of the overall exports of agricultural products with the capacity of milk production amounting to 2.81 billion litres, 0.19 billion litres shy of the forecasted 3 billion litres. The shortfall was attributed to the extended dry season that befell the northern regions of the country and pandemic resultant events that interrupted the production of milk in other regions of the country. As of September 2023, Uganda's milk production amounted to 3.85 billion litres.
The trend of dairy imports has been decreasing over time with most dairy products being processed domestically replacing imports. However, the value of imports increased from USD 3.1 million to USD 4.1 million between 2020/21 and 2021/22 after a sharp drop from USD 5.19 million in 2019/20. 
INDUSTRY OVERVIEW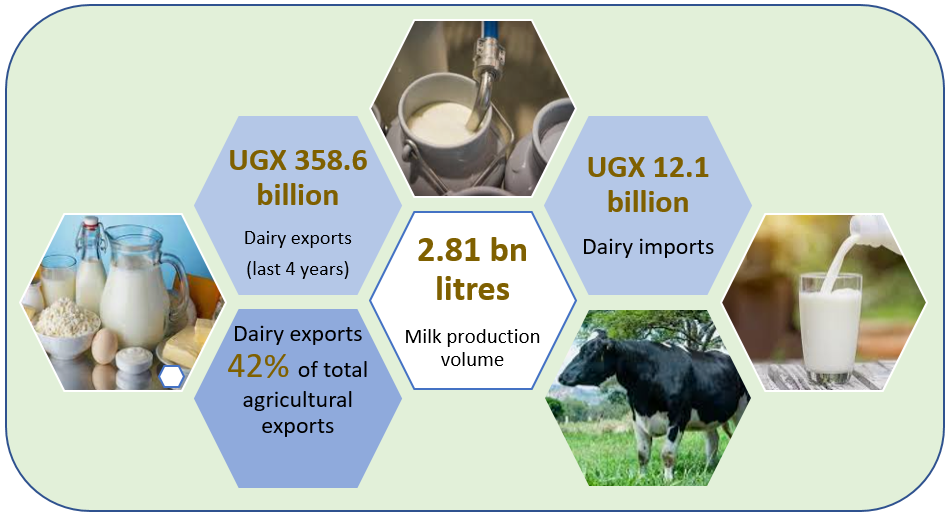 Industry market size 
The volume of milk production in Uganda
The growth in the volume of milk produced in 2018 from 2.51 billion litres to 2021's 2.81 billion litres is credited to the increase in the number of milk collection centres to 483 which are run by companies, private owners, processors and cooperatives. As of September 2023, Uganda is producing over 3.85 billion litres of milk with an average annual growth rate of 11%.
Table 2: Milk production volume in Uganda between 2015 and 2021 

| | | | | | | | | |
| --- | --- | --- | --- | --- | --- | --- | --- | --- |
| Year | 2015 | 2016 | 2017 | 2018 | 2019 | 2020 | 2021 | 2022 |
| Volume (In billion litres) | 2.08 | 2.20 | 2.28 | 2.51 | 2.52 | 2.60 | 2.81 | 3.2 |
Dairy exports in Uganda
Data from the Dairy Development Authority shows that the revenue generated from exports of dairy products in Uganda increased to USH 750 billion from USH 480 billion in 2020.  The export value of dairy products registered a substantial increase in 2020/21 to USH 348.1 billion from the previous year's USH 196.5 billion and an all-time high of USH 358.6 billion over the preceding 4 years. Data from the DDA further shows that dairy exports leapt to UGX 382billion in the financial year 2021/2022.
Figure 1: Dairy exports value of the dairy industry in Uganda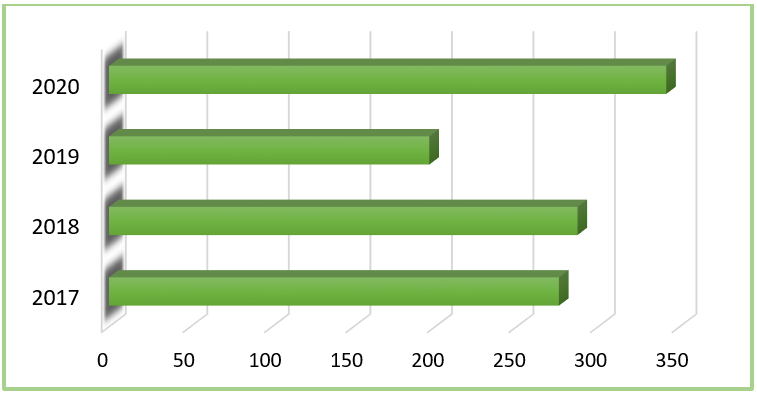 Marketed milk
USH 2.24 trillion worth of milk was sold in 2020 which increased in 2021 to USH 2.478 trillion accounting for 82% of the overall production, implying that 18% of the milk produced was consumed at a rate of one million litres per day.
Of the 3.85b litres of milk being produced as of September 2023, 80.2% (2,566,400,000L) is marketed while the remaining 19.8% (633,600,000L) is consumed at the farm.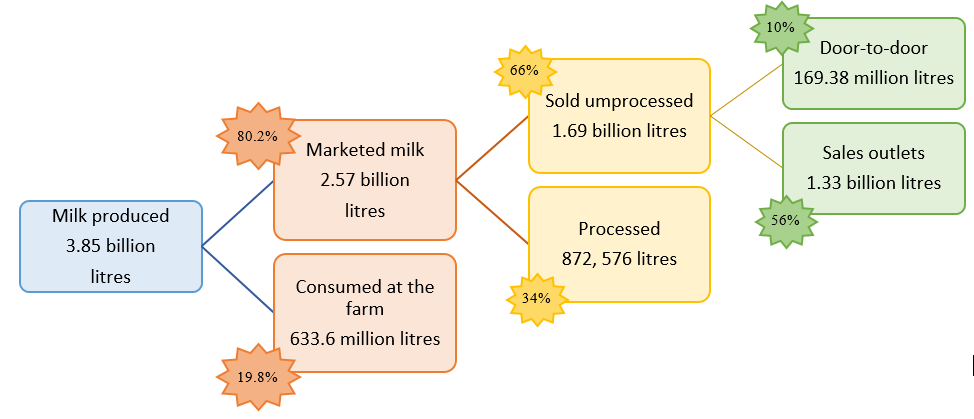 Overview of major players in the Dairy industry in Uganda
The major dairy companies in Uganda including milk processing companies are as follows;
Brookside Dairy Limited
Brookside Dairy Limited is headquartered in Kenya and is one of the biggest milk processing companies in East Africa with a presence in over a dozen countries and an established brand reputation for quality for over a quarter of a century. The dairy products it produces include fresh, long-life, flavoured and fermented milk, yoghurt, butter, cream and ghee 
Fresh Diary began its operations in 1967 and it is involved in the production of dairy products that include fresh, long life and flavoured milk, yoghurt as well as cream, butter and ghee.  
Brookside purchased Sameer Agricultural & Livestock Ltd in 2015 and now owns the 51% stake in Fresh Diary, previously held by Sameer while 49% remains in the hands of the Government of Uganda. The company's major brand in Uganda is Fresh Diary and it is one of the leading dairy brands in Uganda, especially for fresh, long life and flavoured milk as well as yoghurt. 
Jesa Farm Dairy
Jesa Farm Dairy, which was established in 1987 by James Mulwana alongside his wife Sarah with the name 'Jesa' derived from a combination of the sound of the two first letters of their first names, has grown to become one of the largest milk processing companies in Uganda and East Africa.
The company started its milk processing journey in 1989 and now produces an assortment of dairy products that include yoghurt, UHT milk, Pasteurised milk, butter, cheese and cream.  It enjoys a considerable market share in Uganda and has a daily production capacity of over 200,000 litres. 
Pearl Dairy Farms Limited
Pearl Dairy Farms Ltd is a dairy processing company located in Mbarara specialising in the production of nutritious and high-quality dairy products. It is the producer of the Lato brand, a beloved and fast-growing brand in Uganda that includes products such as liquid and flavoured milk, butter oil, Ghee, powdered milk, butter and yoghurt.  The company processes about 400,000 litres a day from farmers. 
Amos Dairies Uganda Limited
Amos Dairies Limited is a dairy processing company situated in Mbarara that has majored in the production of ghee and casein protein powder since its inception in 2013.  It is part of New Delhi- based Amos Dairies Limited located in India with the majority of the products produced in Uganda exported to other countries. It also produces whey, butter, and anhydrous milk fat and supports close to 10,000 farmers when it buys raw milk from them.
Paramount Dairies Limited
Paramount Dairies commenced operations in 1992 in Mbarara where its headquarters are currently still located. It a prominent producer of cheeses that include Mozzarella, Gouda, Cheddar, Parmesan, Edam, Feta, Colby and Jack cheese as well as creams like Fresh, sour, whipping, double cream and ghee.
INDUSTRY TRENDS (PESTLE)
Political environment
Kenya's ban on dairy imports from Uganda
Uganda and Kenya have had disputes regarding trade, with the latter banning Ugandan exports into the country on a few occasions. In 2019, Kenya enforced a ban on dairy products from Uganda costing the nation revenues of more than USH100 billion resulting from claims that milk from Uganda was not supplied by farmers but imported in powdered form from other countries and re-formed to be sold as fresh milk.  
This ban continued on into 2020 seeing a company like Pearl Dairies operating at a little over (1 )/7th of its installed capacity, having its merchandise invaded and seized by Kenyan officials as well as having its trucks refused entry at the border.  Despite partly lifting the ban on a few companies, that is to say, Brookside, Pearl Dairies, Birunga and Lakeside Dairies, there has always been a lingering threat to the Dairy industry in Uganda that Kenya could impose another ban at any time in the future.
In July 2023, Brookside Dairies had to lay off  50% of its staff citing a collapse of up to 75% of its market, primarily exports to Kenya, after Kenyan Authorities continually rejected more than 80 of its applications for export permits made since March 2023.
Brookside believes the refusal to grant it export permits is political. Kenya theoretically has lifted formal bans but it actively continues to stifle milk trade from Uganda by limiting import permits which are a requirement for market access. The result is that Kenya imports less milk in volume terms compared to its absorption capacity. In March 2023, Nairobi reinstated its 2021 ban on Ugandan milk products, especially powdered milk.
Kenya has the capacity to absorb 700 million litres of Uganda's milk annually, a trading volume that wouldn't disturb local farmers since the country has a milk production deficit of 2.2 billion litres. Despite this, Kenya allows around 200m litres of milk from Uganda annually, a figure that dropped even further following the recent restrictions on Brookside.
As a result, the Ugandan government has been working to open up access to other markets within East Africa including the Democratic Republic of Congo, Ethiopia, Tanzania, Rwanda and Burundi, on top of encouraging local consumption, especially through school milk programs.
Government efforts to find new markets for Ugandan milk exports recently paid off with the country's first official dairy exports to Algeria set to kick off starting October 2023. The export deal worth US$500m will see Uganda export milk products to Algeria as part of a trade agreement that will see Uganda export 1.4 billion litres of milk to the North African country.
Dairy production is the Government's priority sectors
One of the priority areas identified by the government as part of its Agro-Industrialization programme of the National Development Plan III for 2020/21 to 2024/25 is increasing the production of milk. 
With milk as one of the 10 major products identified, the government is directing efforts towards training those involved in the dairy sector, encouraging better methods for the production of feeds and backing dairy farming as a commercial venture.
In addition, the government established the Dairy Development Authority guided by the Dairy Industry Act of 1998 with the aim of increasing the value addition and quality of dairy in order to enhance its competitiveness.  
The Authority has contributed to the development of the sector through, among other things, building and renovating milk collection centres in districts such as Gulu, Kitgum as well as Katakwi, and through numerous efforts such as playing a role in milk promotion, improving transnational trade and also keeping a close eye on the domestic and global prices of milk. This presents an opportunity for further industry growth.
Ugandan Government's efforts in milk marketing  
The Government is continually seeking new markets for Uganda's dairy in light of the challenges it has faced with fellow East African countries, recently adding Zambia as one of the export destinations. This development has seen Pearl Dairies score a deal to supply Coca-Cola Beverages in Zambia with an annual milk powder consignment of 700 metric tonnes.
Similarly, Algeria was secured as another dairy export destination in 2020 with the first shipment comprising 120,000 metric tons of powdered milk departing in October 2023 as part of an export agreement worth US$500 million which will see Uganda export 1.4 billion litres.
Furthermore, through the Africa Continental Free Trade Area Agreement (AfCFTA), the government was able to obtain a market for Lato milk by Pearl Dairies in South Sudan, Malawi and Ethiopia.  Obtaining more markets for the dairy industry is an opportunity for dairy producers, exporters and the industry as a whole to increase production and revenue.
Economic environment
Seasonal variations in milk prices
Milk prices tend to fluctuate in different seasons often due to changes in demand, changes in seasonal production and weather conditions. For instance, farmers in South Western Uganda were affected by volatility in prices in 2021 which saw prices drop from UGX 800 in March and April to UGX 600 in May of the same year after enjoying prices of about USH 1,500 per litre a few months prior.  
However, farm gate prices rose in 2021 and there was smoothing observed in the seasonal variations in prices of which, coupled with a growth in international milk prices is forecasted to uphold country prices on their upward trajectory hence providing an opportunity to both farmers who supply domestically and those who export their dairy products. 
Import substitution
The dairy sector's value of exports stood at USH 358.6 billion surpassing its imports which amounted to about UGX 12 billion enabling the dairy industry to enjoy a positive balance of payment.  In light of the tremendous effort by the government to encourage import substitution, the value of imported dairy products like milk powder, long-life milk, cheese and many more in 2015 fell by 3.9% to reach the 2019 value of $5.19 million.  
Therefore, increased government efforts and initiatives to encourage import substitution and export promotion in the dairy sector provide an opportunity for dairy farmers and stakeholders to have a wider domestic market to serve as well as the opportunity to penetrate the global market.
Rising prices of goods in the economy
While the prices of wheat and oil are the most notably affected, commodities such as dairy have also be distorted as a result of the dispute between the two countries.  The worldwide inflation and the Ukraine war have also affected inflation levels in Uganda leading to a rise in prices of a number of commodities including fuel which poses a threat to the dairy industry in the form of increased transport costs.  
Moreover, the inflation rate has been edging upwards over time currently standing at an average of about 6.3% seeing prices of fuel also growing slowly and hence influencing an increase in the prices of food due to high transport costs. 
Social environment
Population growth and setting
The population of Uganda, which was estimated to be 46 million in 2021 is forecasted to stretch to about 104 million in the period running from 2020 to 2060 with the population density in 2055 expected to exceed 455 people per kilometre squared and reach 529 people per kilometre squared in 2060.  
What is more, per capita consumption of milk has already risen considerably and this has been attributed to the growth in the population over the years with FAO estimating the current domestic per capita consumption to be 62 litres.  Therefore, an opportunity is present for the industry to grow in terms of production and sales as the population and consumption grow.
In addition, this population growth is expected to be complemented by a considerable movement of people from rural areas to urban areas. The number of people living in rural and urban areas as of 2020 stood at 34 million and 11 million respectively, but according to World Bank estimates, the number of urban dwellers is set to surpass that of people living in rural areas, growing to 53 million ahead of the 51 million in rural areas by 2060.  
This fast urbanisation is set to increase milk consumption per capita to an estimated 65 litres in the short-run most especially with the formation of new municipalities and cities.
Cattle keeping as a status symbol
Many people, most especially in the cattle-keeping regions in Uganda still keep large quantities of local cattle breeds like the Ankole cow, Nganda and Zebu as a symbol of wealth or high social standing without any significant effort towards practising commercial agriculture. Moreover, these local breeds yield lower quantities of milk compared to exotic breeds despite their ability to endure tough conditions, diseases and low maintenance costs.  
However, with government efforts in training and educating farmers on the productivity and benefits of keeping exotic breeds, their adoption rates are growing and this provides an opportunity for the industry productivity to increase.  
The invention of a new anti-tick vaccine known as TicVac-U will, going forward, also play a very critical role in keeping livestock healthy, providing farmers, with ways to increase productivity, prevent diseases and optimise the efficiency of milk and meat production from their livestock.
Technological environment
Government and dairy industry emphasis on technology adoption
In May of 2022, the Government through NAADS provided equipment for milk processing worth USH 2.5 billion which was given to dairy cooperatives in the five districts of Kiboga, Kamwenge, Kabale, Kamuli and Kyankwanzi to aid value addition through the processing of yoghurt, ghee and cheese.  Industry development partners, among whom are aBi Development and Heifer International are also supporting the adoption of technology in the dairy industry by funding and donating farming technology such as sealers, freezers, fodder processing machines, cutting-edge coolers and artificial insemination kits among others.
The quantity of imported dairy equipment stood at 18.96 billion with the largest proportion done by factories that process milk as well as the big state farms and this was higher than the previous year.  Through grants, and technological equipment donations supported by the education and training of farmers and dairy processors, there is an opportunity for the dairy industry to streamline various production and processing operations that will reduce costs, improve quality and simplify different processes.
Farming mobile apps
Smartphones and farming mobile apps are continuously being adopted by dairy farmers in Uganda to improve their daily operations. Some of the apps developed for Ugandan dairy farmers include the Emata app that assists farmers in obtaining affordable credit, feed and drugs as well as informing them about milk prices.  
Others include 'Feed Calculator' for mixing feeds cheaply with over 50,000 downloads as of 2020, 'Jaguza Farm' which is an AI app that uses machine learning & Tensor Flow to among other things, record milking, detect heat and estimate output, EzyFarm which links farmers to purchasers, traders and service providers reaching 100,000 downloads in 2020 and 'AgroMarketDay' that strives to eliminate middlemen by relaying information regarding markets instantaneously.  These technologies will enable the dairy industry to grow through high-yielding farming and production practices that increase revenues for stakeholders in the industry.
Cold chain technology
Cold chain infrastructure ensures that the milk is kept at an optimum temperature that allows it to retain its nutritional and palatable qualities. Uganda currently has 198 registered roadworthy milk tankers operating countrywide mainly in capacities of 5,000, 10,000, 15,000, and 20,000L, while at the farm level, containers such as food-grade milk cans are used for preservation.  Milk collection and bulking have improved tremendously with several stakeholders including the government, dairy cooperatives, traders, processors and private individuals continuously investing in cold chain infrastructures.  Investment in cold chain infrastructure will assist in the mitigation of post-harvest losses and maintenance of milk quality.
Legal environment
Dairy Industry Act
The Dairy Development Authority was developed from the Dairy Industry Act of 1998 and it is in charge of registering and awarding licences to dairy stakeholders and developing and observing quality standards.  Enforcement of these standards is carried out across the country which includes inspection of dairy handling sites, import and export shipments, equipment used by milk transporters, and milk testing where consequences of non-conformity include revoking of registration licences, confiscation or recalling of the product from the market, closing of the premises and prosecution. This enables farmers to stay on track regarding meeting the safety and quality regulations whereby strengthening these regulations and their enforcement presents an opportunity for the production of better quality dairy products that are competitive and meet international standards for export.
Environmental
Extended dry spells and drought 
Ntoroko district is still experiencing a period of drought that has stretched from July 2021, not only killing over 996 cattle by the end of January but also decreasing the volume of milk produced to 3,295 litres a day from 10,630 litres and the proportion of milk sold by 64.5% consequently driving up the prices of milk threefold.  Much like Ntoroko, districts in the North and North Eastern regions also experienced periods of drought that negatively affected the availability of pastures and water for cattle thereby leading to a drop in milk production.  Scarcity of water and pasture greatly affects the productivity of dairy cattle and consequently the volume of milk produced which poses a threat to the dairy industry in Uganda. 
Flooding
While the South-west and Central regions are the top 2 leading milk-producing regions in the country, the Eastern region comes in third, accounting for 21% of the total volume of milk produced by the country.  Moreover, the East and North are regarded as the 'deficit milk sheds' given that they suffer from marketable milk shortfalls all year round, contrary to the Central and Southwest which are referred to as the 'milk surplus sheds'. 
Figure 2: Regional contribution to national milk volumes in Uganda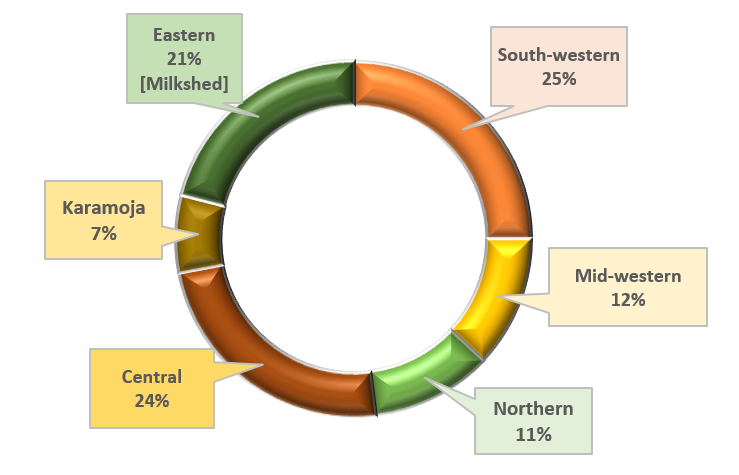 Source: Adapted from Dairy Development Authority 
The Eastern region is prone to disasters such as flooding especially when the country experiences periods of heavy downpours. For instance Teso subregion - which is located in the East- experienced heavy rains in 2020 which flooded pastures, killed livestock and left the surviving animals too frail to produce adequate quantities of milk and in so doing, decreased the production volume of the region.  
Although the government is directing efforts towards putting a cap on flooding in the region by, among other things, earmarking USH 3.8 billion in 2021 to build 6 six valley tanks in Kapelebyong-the most affected district in Teso, flooding still remains an imminent risk to the dairy industry in the country.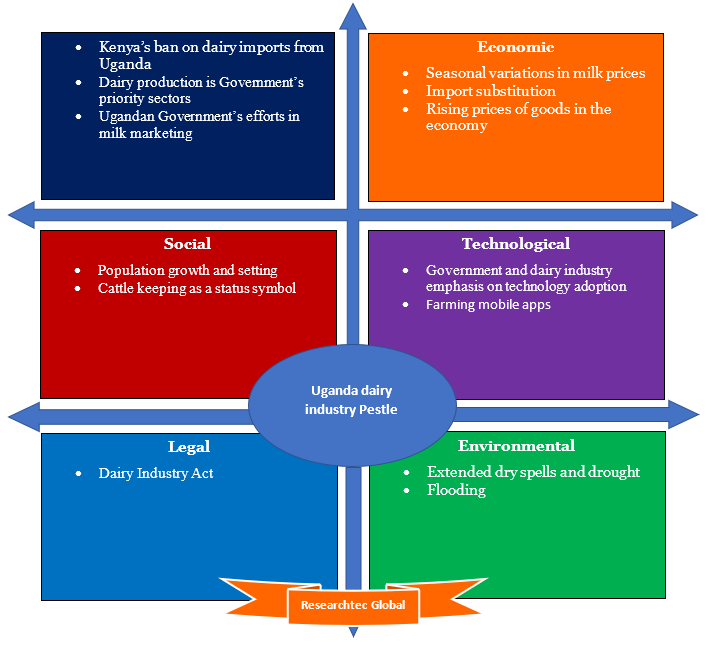 Key industry drivers
The key industry drivers in the dairy industry of Uganda involve political, technological and environmental factors. They are derived from the PESTLE framework and they highlight those factors that are most vital and should be treated as having precedence over other factors since it is probable that they could have a greater effect on the success or even the failure of both existing and new entrants in the dairy industry of Uganda. 
Political drivers
Dairy production is one of Uganda's government's top 10 priority sectors
The political change that makes up one of the drivers of change is the Government's efforts in milk marketing. As one of its priority sectors, the government is dedicating a considerable amount of resources like tax exemptions, funds and machinery, training and educating of farmers, construction of milk collection centres with milk coolers as well as advocating for quality and enforcing quality standards. It has further invested in crossbreeding programs as well as an anti-tick vaccine initiative for improved production. This is already uplifting dairy production and can continue to be a great driving force for future competitiveness and success of the industry. 
Ugandan Government's efforts in milk marketing  
Likewise, the Government's efforts in milk marketing that include securing new international markets like Zambia and Algeria for Ugandan dairy products will encourage increased production and value addition in the dairy sector which could greatly contribute to the success of the dairy industry in the country.
Technological drivers
Government and dairy industry emphasis on technological effort
Another key industry driver is the emphasis on technological efforts by Government and dairy industry development experts. Adoption of technology in dairy farming and processing of dairy products will increase efficiency, reduce production costs, and promote value addition and quality which will in turn increase the lucrativeness of the dairy industry. It will also promote dairy export volumes owing to the improvement in the quality of products.
Environmental drivers
Extended dry spells and drought
Lastly, the extended dry spells and droughts happening in some regions of the country especially the milk sheds are a key driver for the industry. Without better dairy farming practices like water and dry fodder storage to feed animals during periods of pasture scarcity, this problem will probably inhibit the success of the dairy sector since insufficient water and feeds reduce the milk productivity of dairy cattle.
Key success factors
Differentiation
Differentiation through providing unique tastes, a wide product portfolio as well as great branding and services.
Cost efficiency
Cost efficiency necessitates technology such as processing equipment to lower the production cost per unit through economies of scale and a low-cost location to minimise transportation costs.
Value addition
Value addition involves improving or enhancing the quality of milk, and processing of milk into other dairy products like milk powder, yoghurt, cheese, and ice cream among others.
Livestock vaccines
The invention of a new anti-tick vaccine is anticipated to play a critical role in boosting the uptake of exotic breeds which yield higher quantities of milk compared to local breeds, boosting milk productivity in the country.
Industry Swot: Uganda dairy industry
Strengths of the Dairy Industry in Uganda
High dairy export volumes
Exports of dairy products have risen tremendously arriving at an all-time high of USH 358.6 billion over the previous four years and almost doubled considering financial year 2019/2020. Data from DDA further shows that dairy exports jumped to Ush382 billion in the financial year 2021/2022. Some of the imported milk products include milk powder, UHT milk, whey protein powder and casein.  Uganda being one of only two countries in Sub-Saharan Africa with a favourable balance of payment position, i.e. the value of its dairy exports exceeding the value of its dairy imports, highlights the great performance of the dairy sector in the country. 
Strong investments by the private sector
The private sector has increasingly invested in the dairy sector taking up considerable market share in the country. Private companies like Pearl Dairies and Jesa Dairies penetrated the market and are responsible for the largest percentage of processed milk volumes, exports and skill assimilation into the value chain through training and outreach programs.  
In addition, private investors are continually supporting these companies with one notable example of IFC and GAFSP's $8 million investment in Pearl Dairy for the expansion of its milk processing factory which has improved market access, provided technical assistance and improved the livelihood of about 10,000 farmers. 
Weaknesses of the Dairy Industry in Uganda
Continued underemployment of installed capacity 
The installed capacity of large, medium and small processing facilities, as well as cottages was 2.7 million litres in the year 2018 and by 2021, it had risen to 3.1million litres, an increment attributed to an increase in value addition done by dairy cottages located in the central and southwest Milksheds. 
While the processing capacity of the dairy sector has improved, most big and medium-sized processing factories are operating under their installed capacity at about 40-60%.
The dominance of the industry by small-scale farmers
The dairy industry in Uganda is dominated by smallholder farmers mostly residing in rural areas, who contribute over 95% of the national production volumes and according to the National Planning Authority, 90% of the nationwide herd. It is a source of livelihood for many households despite the fact that the milk produced by these smallholder farmers differs in quality and only about a fifth of the volume produced actually undergoes value addition.  
Not surprisingly, only about 20% of the milk is processed and the average productivity per cow is a mere 4 litres per day since the majority of these farmers produce at a less-than-optimum level because they lack the necessary knowledge, skills and training.
Figure 3: Comparison of milk yields on farm versus research stations (in million litres)     
Low-value addition 
Moreover, with the penetration into more foreign markets, the demand for value is set to heighten and players in the sector will have to produce products that meet the quality standards of these countries. In addition, the production of high-value products is very minimal in the sector with very few processors engaging in the production of baby formulas, curd, cheese, whey and casein which are top-dollar products in markets outside the domestic. 
However, the government is directing efforts towards helping smallholder farmers in improving value addition in the sector by among other things allocating USH 2.5 billion for the purchase of processing plants which will be handed over to dairy associations like Dwanilo Livestock Society, Neema Mixed Farm and Balawoli Cooperative located in Kiboga, Kamwenge and Kamuli respectively 
Limited access to dairy farming inputs 
Access to authentic inputs by farmers is one of the biggest challenges dairy farmers, especially rural smallholder farmers who are the majority in the industry, face.  Research conducted in the country has shown that greater access to extension services like credit, vaccination, insemination and advisory services especially through cooperatives had a positive effect on milk produced, that is to say, an increase in the volume produced.  
While the availability of inputs increased, there is still generally limited access to inputs such as pasture seeds which is constraining milk production and the performance of the industry. 
Limited milk consumption by the local population
A major weakness of Uganda's dairy industry is the low level of milk consumption in the country. Ugandans consume a mere 64 litres per litre per capita, a pale comparison to even neighbours such as Kenya which consumes 120 litres per person per capita – and way below WHO's recommended 200 litres per capita. Only Tanzania with 47 litres per capita lags behind Uganda in the EAC.
DDA puts the domestic household consumption at a little over half a litre of milk a day, a rate 68% below the WHO and FAO recommended dietary intake. This implies that Ugandans drink their recommended milk intake for only 2 out of the 7 days in a week.
Opportunities in the Dairy Industry in Uganda
Potential in dairy goat farming 
While the dairy sector has been growing over the years, this growth has been greatly credited to the milk from cattle, leaving the input of goat milk undocumented despite the existence of a massive potential for prosperity in this under-established sector. The Dairy Development Authority has realised the input of goat milk in the dairy industry and subsequently directed efforts toward promoting and regulating its value chain in conjunction with National Genetic Research Centre and Data Bank through training, providing pastures, superior breeds, milk cans and consultancy services. 
Moreover, goat milk has a high nutrient content, is utilised in HIV, cancer and Covid-19 treatment and has been endorsed for handling intestinal conditions and coronary ailments.  It also contains limited amounts of lactose and allergens, is naturally homogenised-making its processing much simpler unlike milk from cattle, and is eight times more expensive than cow's milk. 
Population growth 
Uganda's population is forecasted to continue registering an upward growth trajectory with figures of 2021 standing at about USH47.40 million expected to shoot to more than USH100 million by 2060 supported by a growth rate averaging at about 3%.  The anticipated growth in population coupled with the increasing annual household consumption of milk is an opportunity for the industry to increase the volume of milk produced to meet the growing domestic consumption.
Moreover, the level of milk consumption in the country is still considered to be on the lower end, that is to say, 62 litres, a volume far below World Health Organisation's suggested volume of 200 litres per individual. 
The growing number of export destinations 
In light of the previous ban on Uganda's dairy by Kenya, the government has continued its efforts to find more alternative markets for the sector, adding Zambia to the list as well as securing markets for Pearl dairies in Ethiopia and Sudan.  Zambia has so far purchased over 50 tonnes of powdered milk as its first consignment. Additional export destination countries that have been secured by the government include Algeria and Malawi, with the former expected to import 1.4 billion litres of milk worth US$500 million from Uganda in the coming years.
This comes at a time when the dairy sector in Uganda has been growing at an average rate of 8% per year and according to the Dairy Development Authority, the major driver for this growth has been the active involvement of the government in the sector.
Low production costs
Uganda has the potential to be a formidable regional player in the dairy sector, given the country's competitive advantage of low production costs compared to its regional counterparts. If combined with technological advancement, Uganda's dairy sector has the potential to become highly profitable.
Threats facing the Dairy Sector in Uganda
Cattle rustling in Karamoja sub-region
Karamoja is one of the milk-producing regions, contributing 7% of the national milk production. However, the region has been grappling with cattle rustling, a problem that has been magnified over the years with local leaders now actively involved in the theft and transportation of stolen cows from different areas, essentially making a business out of this illegal activity. The government is promising to take even more action to remedy this, for instance, by setting up CCTV cameras to observe the transportation of cattle, eliminating bow-and-arrow-wielding rustlers as well as working in collaboration with the Kenyan and South Sudanese governments. 
At the moment however, cattle rustling still remains a looming threat in the region even amidst the efforts the government has already been taking for the past few years for instance, deployment of the army in the region, prosecutions and disarmament of Karimojongs-a process backed by allegations of usage of unnecessary force and torture cases like beatings and food deprivation of gun owners. 
Inadequate infrastructural support structures 
The dairy sector is significantly affected by the poor state of Ugandan roads, insufficient availability of electricity and the limited number of storage and chilling structures for milk. Although being advised otherwise, many rural dairy farmers still transport their milk to milk depots and collection points using jerry cans and in addition, the available chillers, milk graders and cold chain trucks are not sufficient enough to handle the 7.7-litre daily production of the sector. 
Despite the sector gradually investing in cooling and storage facilities, some smallholder farmers still approximately lose between 20-50% of their milk due to the weak milk cold chain within the sector. 
Limited availability of clean water 
Many farmers in Uganda lack sufficient resources to efficiently run their dairy farms and also grapple with the high costs of operation. Apart from feeds, farmers are also often challenged by the inadequate availability of water to supply to the animals for drinking.  
Although water requirements vary depending on factors like weight and weather, on average, a dairy cow requires between 60 and 120 litres of water a day whereby inadequate intake of water causes feed intake, performance and consequently milk yield to drop in dairy cattle. 
Cattle diseases
The high incidence of ticks and tick-borne diseases greatly affects the dairy sector by causing losses for farmers through death of animals, incapacitation, ill health and a decline in milk production which hampers the growth of the dairy sector. Moreover, the country is currently challenged by the growing spate of acaricide-resistant ticks that are posing a great challenge for many dairy farmers. While the invention of the country's first anti-tick vaccine will play a very critical role in reducing ticks and tickborne diseases, the vaccine is not yet commercially available.
Similarly, there is a high incidence of foot and mouth disease in some areas of the country which has been driving losses for farmers as well as negatively affecting domestic and foreign trade in the industry.  Due to the highly infectious nature of the disease, the government enforced a quarantine in the five districts of Kazo, Sembabule, Gomba and Kiruhura 2021 where the outbreak of Foot and Mouth disease was notable, going on to name another 14 districts including Wakiso and Kampala as high-risk zones. However, the country has so far been unsuccessful in its attempts to eliminate the disease entirely.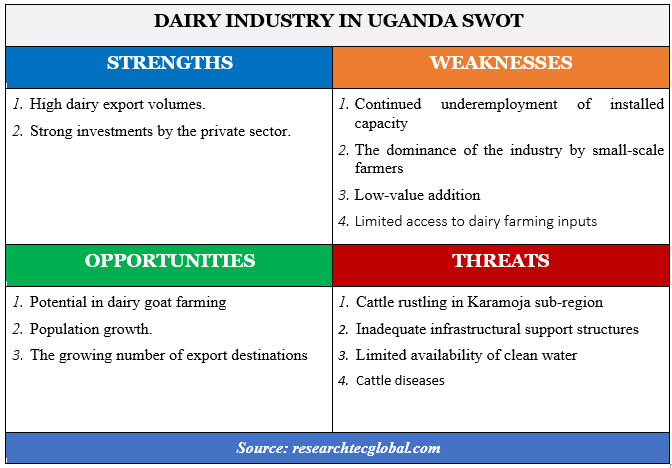 Market Opportunity Ranking
: Uganda Dairy Industry
Analyzed Factors

Opportunity

Opportunity Rank

Environmental     
The general environment is favourable for the growth of the dairy industry sector in Uganda. It is characterized by growing domestic consumption, availability of demand for dairy exports and the government's prioritization of the sector.
1
Market
The specific market factors in the Uganda dairy industry are the growing demand for quality dairy products for export and the strong government intervention, creating the potential for growth in the sector and hence an exploitable opportunity.
1
Market Potential
The dairy market is expected to experience growth with domestic per capita consumption of milk forecasted to increase from 62 to 65 litres in the short run and exports are also forecasted to grow with the increase in dairy export destinations.
1
Competitive Analysis
The dairy industry in Uganda is steadily growing and the competition for processing companies in the industry is already high for the incumbents and also for new entrants who have to compete against well-known and established leading brands.
3
Alignment with Purpose/Mission
Pursuing the opportunity in the dairy industry is in line with the overall mission/purpose.
3
Other factors: Economic, Technological, Political, Legal and Sociocultural
Factors such as the Ugandan government's funding of the sector, encouraging import substitution and efforts in marketing the sector by securing additional export destinations, growing population and urbanisation and adoption of technology will increase the demand for quality milk and dairy products.
2

Summary

With the availability of ready demand for dairy products on the international market, the large numbers of dairy farmers in the country and the growing volume of production, dairy processing provides a good way to exploit these opportunities since quality is a major driver for exports and also developing demand from domestic consumers.
COMPETITIVE LANDSCAPE
Porters five forces analysis of the Dairy Sector in Uganda
Porter's five forces analysis is used here to analyse the dairy industry in Uganda in terms of industry structure, market share concentration, nature of competition between existing rivals, basis of competition, barriers to entry/threat of entry, operating conditions (capital intensity, technology, regulatory environment, and government interference/help/grants).
Threat of entry
The threat of entry into the Ugandan dairy industry is Medium. This is attributed to the low differentiation currently prevailing in the market, the extensive scale and experience possessed by the incumbents as well as the Government's efforts in promoting, developing and enhancing the growth of the dairy industry in the country.
Low differentiation
Milk value addition is still low in the dairy industry in Uganda, with a short list of companies processing milk to produce quality branded dairy products. However, established milk processing companies like Jesa Dairies, Fresh Dairy and Pearl Dairies have an upper hand when it comes to brand name strength and brand loyalty thereby creating a barrier to entry for newcomers who have to spend inexplicably on creating brand awareness to reach the levels of brand recognition and loyalty comparable to those the established brands enjoy.
Scale and experience
The established milk processing companies have reached a level where they are processing milk on a large scale, making production per unit costly for new entrants who have to attain a similar scale to be able to enjoy economies of scale. This is further exacerbated by the high level of investment required to attain the scale as well as the experience that incumbents have gained - in the form of equipment, production and facilities costs for new entrants. Therefore, with scale and efficiency, incumbents are well-positioned to operate more efficiently than newcomers who haven't learned the tricks of the trade yet. 
This can be seen from Pearl Dairies' collaboration with Tetra Pak which resulted in a processing capacity expansion for the company, with the installation of a packaging line costing USH 9.25 billion in 2019, Milkman's $15 million factory constructed in 2019 as well as Jesa's expansion involving construction of a larger 2,700 m2 facility in 2021. This type of capital investment signals the ability to absorb heavy sunken costs for incumbents, which can act as a barrier to entry for new and smaller potential entrants who are not well-capitalized. 
Government action
The Government of Uganda has supported and continues to point efforts and funding towards the dairy industry. Dairy is one of the National Development Plan's (NDP 3) ten priority commodities selected by the government for the positive contribution it has in improving food security as well as earnings from exports where it accounted for 3.4% of the total exports (the third largest share after coffee with 10.9% and fish & fish products with 5.9%) in 2018.  
The Ugandan government has also allocated funds to develop the dairy sector majorly through efforts from the Dairy Development Authority to a tune of 2.5 billion in 2022 for the procurement of milk-processing plants in different districts. 
Threat of substitutes
Threat of substitutes is low in the dairy industry in Uganda because non-dairy milk substitutes are not popular in the country and are consumed by a negligible proportion of the population. Non-dairy milk substitutes include soy milk, almond milk, coconut milk, oak milk, goat milk, hemp milk and rice milk among others.  Smart Foods Limited, a Ugandan start-up company dealing in meat and dairy alternatives had its initial attempts at developing coconut and soy yoghurts fail given that their taste was far different from that of dairy yoghurt.
However, with more investment in advanced equipment, the beany taste as well as the unpleasant scent and colour were later eliminated.  Another company that is supporting the developing consumption of soy dairy alternatives is Sesaco, a company involved in the production of over 15 soy-based products including soya milk powder, soya ice cream and soya yoghurt.  While the consumption of non-dairy alternatives may be taking root in Uganda, their demand is still not currently sufficient to pose a serious threat to the Dairy industry in Uganda.
Power of buyers
The power of buyers is high in Uganda's dairy industry and some of the major factors contributing to this are the low cost that would be incurred if a buyer switched between brands or companies and the presence of concentrated buyers (i.e. the processing plants/companies) who end up having a high collective bargaining power that leaves suppliers with very thin or no margins. How?
Low switching costs
The cost incurred by a consumer in shifting from one milk vendor to another is low, especially for local customers who have a strong preference for loose milk that is mostly undifferentiated, cheaper and with very minimal value addition. This scenario is similar to the case of differentiated products by established brands such as Jesa, Amos Dairies, Brookside, Vital Tomosi, Lakeside and Paramount as well as the growing number of smaller brands/companies like GBK, Kooky Enterprises and Rainbow Industries that are continuously providing consumers with an abundance of good quality alternatives and in so doing, making it easy for them to switch between brands. 
Concentrated buyers
There are few large buyers or customers for raw milk in the dairy industry and they include processing plants, dairy cottages and Milk collection centres. According to the Dairy Development Authority, the total of all-size processing plants and cottages was only 116 in 2021, while the number of milk collection centres in rural areas was 475.  Due to the presence of a few large buyers, the buyer power in the dairy industry is high. Furthermore, farmers are not involved when milk prices are set, leaving all the power in the hands of processors who ultimately drive the price paid per litre of milk purchased. 
Power of suppliers
The power of suppliers (i.e. dairy farmers) in Uganda's dairy industry is low due to the low concentration of suppliers, low supplier competition threat and the low switching costs that make it easier and inexpensive for milk processing companies to switch between suppliers. How?
Low concentration of suppliers
The dairy industry does not have just a few suppliers dominating the industry but instead, it is mostly dominated by many smallholder farmers each with a proportionately low production volume. Moreover, the Dairy industry in Uganda is comprised of tens of thousands of dairy farmers and the livestock sector is reportedly a source of revenue for 4.5 million Ugandans.  Because of this low concentration, the suppliers, who are the farmers in this case, are left with a very low bargaining power.
Low supplier competition threat
Farmers (suppliers) are still incapable of cutting out buyers serving as middlemen in the sale of their milk because they often do not have the capacity to trade directly with the final consumers. It is also largely due to the fact that the raw milk purchased by consumers is mostly purchased from third-party vendors such as dairy shops and that most dairy products purchased by the final consumers are more often processed by dairy processing plants that purchase milk from farmers but not by the farmers themselves. 
Consequently, considerable sums of money are lost during the selling process to middlemen for instance, where a farmer would have received USH600 per litre as paid by the processor, he only gets about half (USH300) because costs are incurred for the middlemen services that include transportation and keeping the milk chilled. 
Low switching cost
The milk buyers, who in this case are the dairy processing plants, cottages and milk collection centres are not largely dependent on particular milk suppliers making it easy to switch between suppliers and hence keeping the switching cost very low. This is because there are many dairy farmers in the country who can supply these processors with milk to supplement the milk produced by enterprise-owned farms that some processing companies have. For instance, Jesa Dairies operates a 600-ha farm with 650 Friesian cows whose milk is taken directly to the dairy plant, showing that Jesa does not rely entirely on external suppliers of milk. 
Competitive rivalry
The competitive rivalry in the dairy industry is fairly high and this is a result of the primarily low differentiation present in the market as well as the high seller concentration characterised by a few suppliers controlling a large proportion of the market share.
Low differentiation
Even with the increase in the processing capacity as well as the number of processing facilities from 100 in 2018 to 116 in 2021, differentiation is still generally low in Uganda's dairy sector. While demand for milk is forecasted to increase, this demand is expected to be in favour of fresh, otherwise known as loose milk, which is largely undifferentiated but still preferred by a large number of domestic consumers.  This increases the intensity of competition in the dairy sector.
High seller concentration
The dairy industry in Uganda is dominated by a few notable dairy processors who control more than half the market share for processed milk and dairy products. These include; Brookside Dairy Limited, Jesa Farm Dairy, Amos Dairies Uganda Limited, Pearl Dairy Farms Limited and Paramount Dairies Limited. These are all roughly of similar sizes, which increases the susceptibility of the industry to intense competition as one or two processing companies try to attain domination over the rest. Until the industry consolidates, this concentration of sellers is likely to continue and increase even further as new entrants eye the lucrative potential of the sector.
INDUSTRY MAJOR PLAYERS
Top 5 Players in Uganda's Dairy Industry
Company

Location

Est. revenue in UGX/$ 

Major products/services  

Brookside Dairy Limited

Kampala

74billion ($19.65m)

Fresh milk
Flavoured milk
Long life/UHT milk 
Powdered  milk
Yoghurt 
Butter 
Ghee  
Cream
Jesa Dairy Farm
Kampala
47billion ($12.5m)
Pasteurised milk
UHT Milk
Yoghurt 
Butter 
Fresh Cream 
Cream Cheese
Dairy blend
Amos Dairies Uganda Limited

Kiruhura

45.2billion ($12m)
Milk 
Anhydrous milk fat
Ghee
Casein
Whey
Pearl Dairy Farms Limited
Mbarara
20.3billion ($5.4m)
Milk Powder
Liquid Milk
Yoghurt
Flavoured Milk
Butter
Butter Oil
Ghee
Paramount Dairies Limited

Mbarara

7.5billion ($1.98m)
Cheeses (Mozzarella, Gouda, Cheddar, Parmesan, Edam, Feta, Colby and Jack cheese) 
Cream (Fresh, sour, whipping, double and ghee)
For similar reports on other sectors, please contact [email protected].
BOOK AN APPOINTMENT
Related Reports
NO RELATED REPORTS